Tout bêtement
Photographs by Nicolas Guilbert
Sculptures by Marie Christophe
From July 4th to August 29th, 2015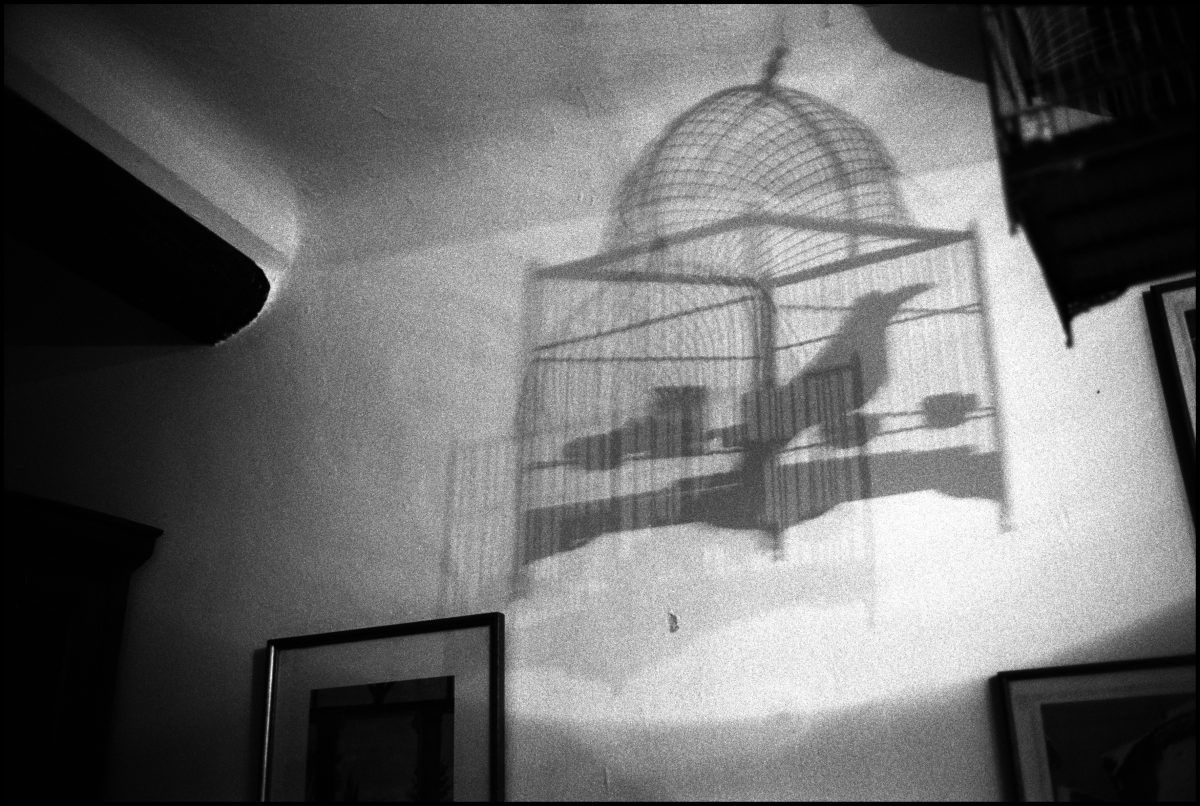 The Cage, Manosque. 2003
Photograph by Nicolas Guilbert
Inkjet print on Hahnemühle baryta paper 315g
37 x 55 cm
© Nicolas Guilbert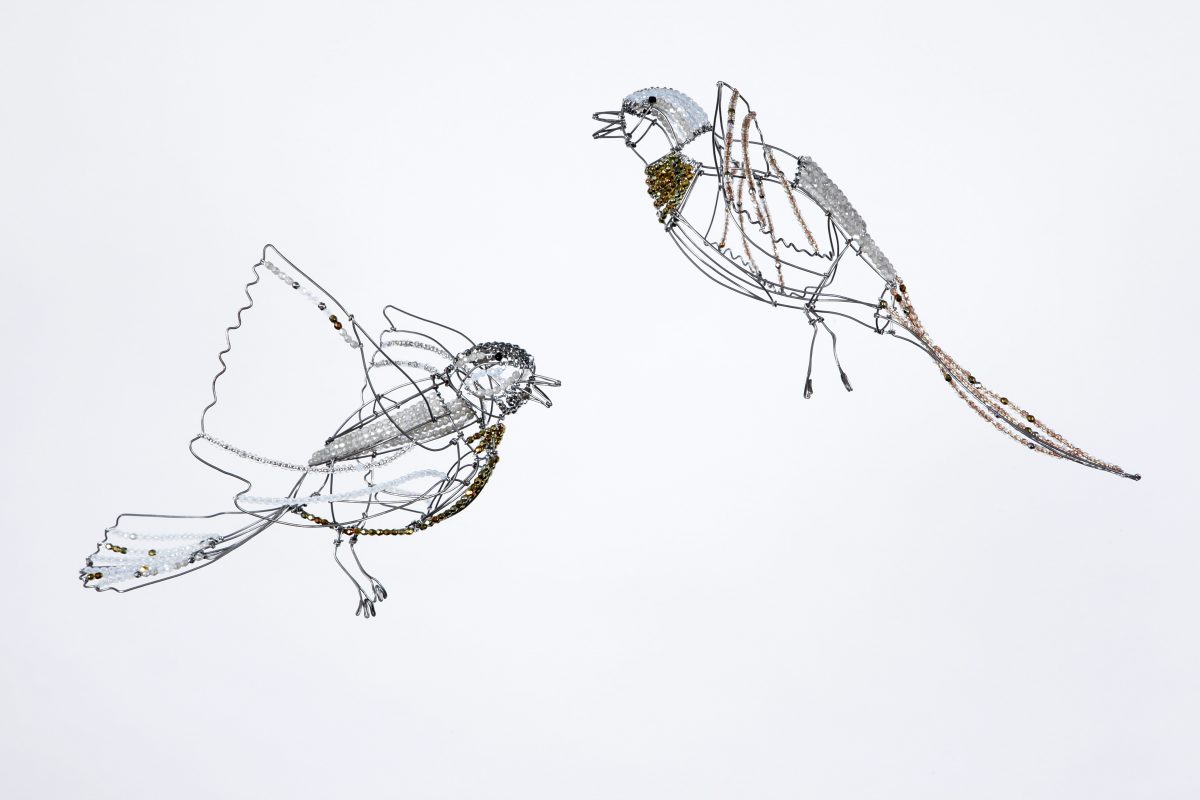 untitled. 2015
Sculpture by Marie Christophe
Annealed wire, crystal pearls
20 cm x 8 cm
© Marie Christophe
During the summer season, FLAIR Galerie will show two unusual artists whose work from the very start took hold of animal figures. The snapshots in color or in black and white by Nicolas Guilbert, and the wire sculptures by Marie Christophe, make up a touching bestiary in which humor and lightness predominate.
It was the anachronism of the animal in the city that led Nicolas Guilbert to take an interest in animals. The revelation occurred during his many journeys in India where elephants, monkeys and dogs wander quite naturally among the humans. He has no pet, he loves mankind and cities. Nicolas Guilbert is a city-dweller and practicing photography brought him close to the animal world. Lengthy walks in the cities enabled him to practice simultaneously his love of images and his taste for capture. A beloved decisive moment!
Between the first shot taken with the Instamatic of a giraffe with its head coming out of the top of a lorry, published in the readers' rubric in ParisMatch, and the very first book Animaux et cie, regrouping thirty-five years of shooting, there has been a whole life with images. Drawing, painting, illustration, carrying out lay-outs for books, and spending time with the admired photographers. For him, as he was not a photographer, he took photos. Without boasting. Here, one does not like dilettantes, so a self-taught dilettante, you can just imagine!
Therefore it took a whole life, and even a second one, to be reborn as a photographer. Here are the images intermingling a tender humor and enchanted motion. Look at the portrait of a little dog climbing onto a four poster bed, becoming an aristocrat with a ruff, against a background of rich tapestries.
Nicolas Guilbert practiced for a long time photography in black and white, following the tradition of street photography. Then, one morning, he went to take a look at colors and, suddenly, it was like a room that has been refreshed,a painting that has been dusted off. He has become classical, headlong in modernity. Walking. For a long while. Looking, looking harder, capturing, looking further, waiting, capturing. Then closing himself off inside the studio, and looking once more. Photography is a history of desire. The spectacle of the world is the same for everyone. And then there is the one who wants above all for it to happen, for it to balance out. So, for a brief instant, chaos takes shape before his eyes. Thus are born images and with them, photographs.
Close to nature, to trees and flowers, Marie Christophe nonetheless does not have a companion coated in fur, in scales nor in feathers. Apart from the two love birds in her studio, her house does not shelter any animals and yet, for nearly twenty years, she has been creating an elegant bestiary made of wire, as light as a bird feather. The specific theme of the animal provides her with a creative freedom which anthropomorphic representation would not. Too many references. Marie Christophe is a sculptor who, for fear of getting bored with her work, pursues unceasingly and most happily, the same gestures, unwinding her spool of wire according to commissions and to her inspiration.
In Paris she attended courses in a very academic drawing school, then took classes in a school of volume. She studied all the techniques and used all the materials except those of wire. Very soon after leaving school, the need to work, to create, felt almost like a physical craving, leading her to ask for a position in a friend's workshop. She wanted to be very small, very discreet. On account of the constraints generated by the space, she came across the perfect material. Since then, settled in the Gers, she has been working on wire of two millimeters in dia
meter. A detail which is the secret of her work. Thus, she can twist, fold the material and give it shape simply by making knots. She refuses to use welding. She does not want a mask, the noise, the smell that would ensue. Those imitations force her to provide her sculptures with an inner solidity, an invisible structure. Everything has to be balanced.
Therefore it is in a clean studio, very tidy, and almost silent, that she draws in space. In black and white, like those swift sketches that capture the essence of their subject within a few lines. Marie Christophe's animal sculptures are of that ilk. Then she adds color by sometimes including ceramics, wooden balls, and pearls. Once the idea is born, one must act swiftly. It is like giving birth. The slight silhouettes reticulated sometimes appear to carry out, according to their random placing in the studio, a fortuitous dialogue that brings a smile to their creator, busy at her tasks. A complicity that her creations, octopus, pink flamingoes, and birds, will continue to carry out joyfully in the gallery in Arles, within the vibrations of the Camargue and of the Mediterranean close by.
Nathalie Cattaruzza, April 2015