Drôles d'oiseaux
Drawings and Collages by Pierre Desfons
Exhibition from September 2 to November 25, 2017
With the support of Atelier Sepia, framer in Saint-Rémy-de-Provence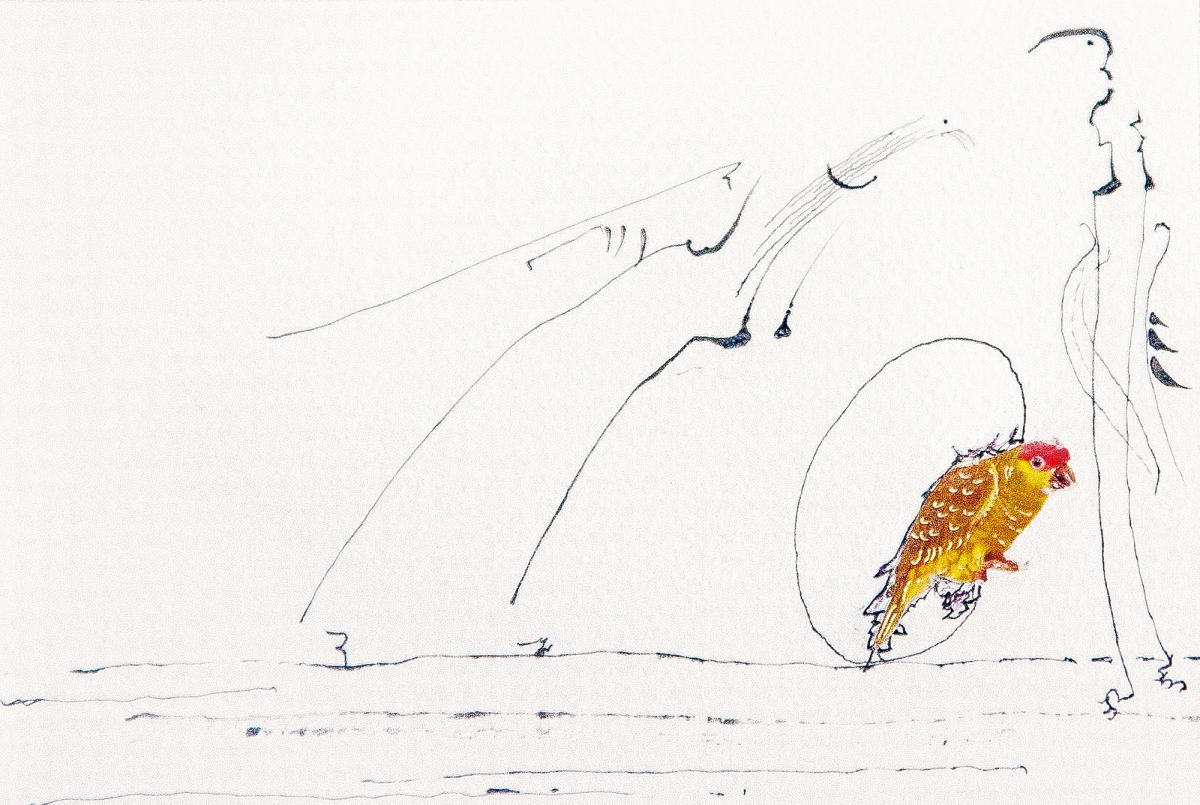 pondu ça, 2. 2017
Drawing by Pierre Desfons
Indian ink, pastel, collage
Unique piece
10,5 x 17 cm
© Michel Bellaiche
FLAIR Galerie presents, from September 2nd through November 25th, 2017 artworks by painter Pierre Desfons: a world teeming with baroque and flamboyant visions, rendered via razor-sharp graphic strokes. The artist creates a delirious bestiary of animals out of his imagination, and any resemblance to actual species, living or dead is entirely intentional.
Scratched ink, graphite, soft pastel, white chalk, red chalk, wings made of paper, origami and, sometimes, glossy paper. Not too much nor too little. An invitation to navigate on the spot to be transported somewhere else. Pierre Desfons, with the tool-kit of a wizard inured to all the games in the arena, leads the way. This strange and familiar circus, doesn't it look like ours? A circus where somehow, willingly or not, we are oaring like madmen? The unrelenting flippancy Desfons puts on show never ceases to amaze.
Here is undoubtedly homage to cinema and the spirit of Dada, but revisited in the spotlight of current events. Don't miss a step in this salutary and nonetheless heartening carnival that Desfons, without pretence, presents to our scrutiny and curiosity. His epic bestiary, by turns sombre and hilarious, gets the better of factual representations. Immediate boarding, betwixt and between sky and soil. A pelagic joyride. No passport needed, just the freedom to roam from one deck to another.
The fantastic on display does not sing over nothing. The magic proposed is really that of a painter stepping down from his rostrum to clear a fresh path. His most distinctive way of playing with elements on hand stands side by side with a taste for research akin to entomology. A good eye, some patience, curiosity, audacity. Pierre Desfons salvages and pastes together an inspired blend of debris from the territory we tread daily. And it says something about who we are. His costumes refer us back to ours mirrors and mirages. The modern tales he tells renew the genre altogether. Terra incognita for a renaissance at once anticipated and longed for. Warning to all amateurs. Stay tuned for new developments.
Let's stay on his tail. Move along, there is much to see. Follow the arrows that strike you. Run the gamut of order and disorder. Go on your own or bring company. Hold on to one another. Hang on to the handrail. Here: dragons deployed to attack a dog, which would take no heed. There: black threats gleaming with glitter swoop down on a copper butterfly. Somewhere else: Japanese birds dive-bombing, preceded by more feminine fowl in a kimono motif. See here some exotic fish, silver and pink, on the lookout for a photographed prey (a little lobster, a still from an earlier film), attached to a Gallo-roman artefact found in Glanum. Absurd not so absurd.
Watch these bruiser birds hit the window of the artist's deserted studio. They will enter through another looking glass. The poet's imagination traces tirelessly. The circle of celestial bodies, stained with scratched colours, twirls and surrounds a delicate winged stranger with their motley malevolence. And now you can go round the world of Pierre Desfons again, once more or any number of times, your head full of the ragged stuff as dreams are made on, filled with a fistful of golden loose gravel. Enjoy.
Odile Barski, 2017
Translation by Ilsa Carter and Pierre Guglielmina