Dogland
Illustrations by Lucy Marshall (The Dogophile)
Exhibition from May 14th to June 25th, 2016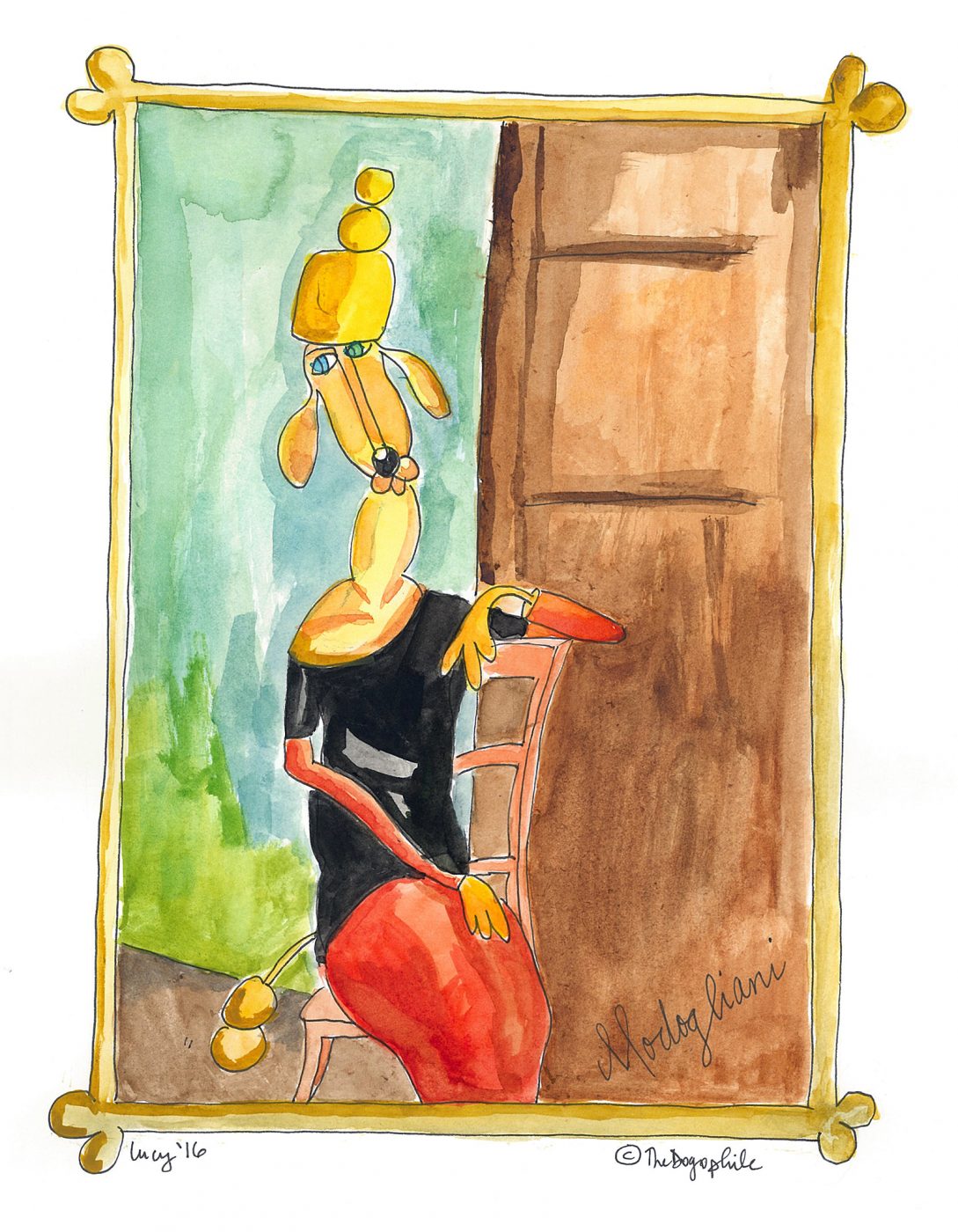 Modogliani. 2016
Illustration by Lucy Marshall
Pigment ink and watercolours
on 100% Cotton paper
35,6 x 28 cm
© The Dogophile
Dogland, first exhibition of Lucy Marshall, alias The Dogophile, at FLAIR Galerie, is a cheering portrait collection of … dogs. Armed to the teeth with canine humor, our cynophilist contemplates her high society kennel without concession, her vision nonetheless crossbred with tenderness — box of dog chow in hand, shoulder bag full of plastic bones, to say nothing of inks, pigments and watercolours. The dogs she shows an affection for, as sincere as artistic, are not the sole subjects of her mordant drawing. Beyond, under those furry coats, we are effortlessly able to make out  men … or women.
Not only does our artist have an undeniable gift for dog training, granting them an eccentric, at times decadent life, but she excels as well at the art of captioning her caricatures — her canicatures, if you will. Without a title, the drawing would lose part of its soul … Undeniably comical, this gallery of portraits takes from various backgrounds. Bitches, cosmopolitan and coquettish, roam the fashion world — Miss Pom Pom Poodle, Haute Dog, the Ultimutt Hipster. Others move in exclusive professional spheres — Legal Beagle or better, a Muttador that should be a hit in this bullfighting capital. But it is especially the great moments of art, which are here evoked : music with La Bowheme, literature with Les Liaisons Dangereuses, cinema with Breakfast at Sniffany's, painting with Vincent Van Dog or The Howl  which Munch would not have disowned.
Our Dogophile has an aristocratic flair for painting the portrait of her dog-personages. Each one has its own character, temperament, gaze, costume and reference. One thinks of Kiraz and his haughty Parisiennes, of Sempé for the composure of his characters, of Gerard Hoffnung for the animalistic alibi. From faraway Australia where she has resided since the age of two, Lucy Marshall easily slips the names of Charles Addams, Saul Steinberg and Maira Kalman into the pantheon of those who have inspired her and whom she admires. We grin, we chuckle, under the charm of tight-lipped chops and vixens' winks.
Nathania Cahen, 2016
Translation by Pierre Guglielmina