L'homme animal
Sculptures and paintings by Roland Roure
Exhibition from December 3, 2016 to January 7, 2017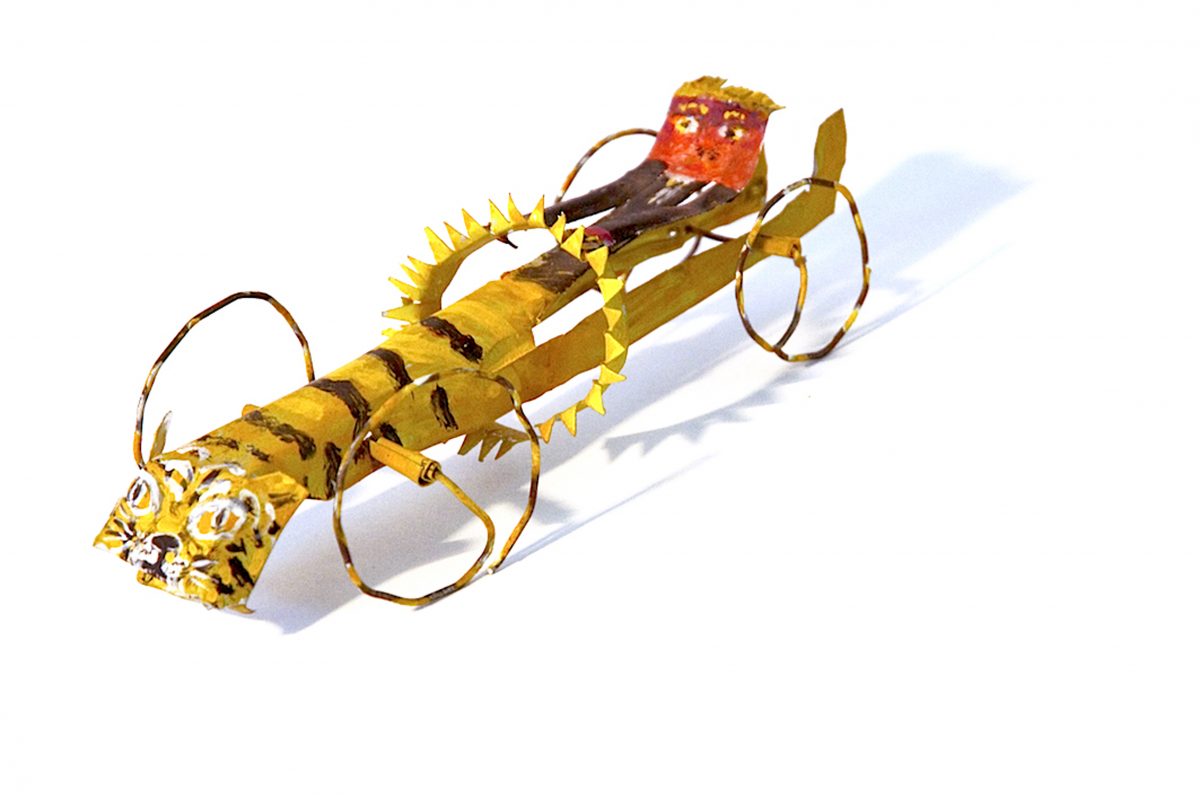 Le tigre dans le moteur. 2015
Sculpture by Roland Roure
Aluminium, wire, acrylic paint
1,96 x 7,28 x 2,75 inches
© Shakuntala
From December 3, 2016 to January 7, 2017, FLAIR Galerie presents the work of the sculptor Roland Roure. Convinced that man is an animal, he manipulates raw materials and words with equal malice, the odd beast lurking where no one expects it. This ensemble forms an open alphabet developed during 40 years by Roland Roure.
Roure is a personage with real spirituality. He spews three-dimensional poetry, recycles the consumer society's relegated objects, bestows nobility to a length of wire, breathes new life into old tin cans, and brightens it all up with a dab of paint. Tampered with by magic fingers, these piles of impoverished materials are reborn and outperform as an elegant black ballet dancer, a crab or a cat in full control of its prey. Imagination reigns and the maladroit master does the rest. Carnivalesque! This plastic expression springing forth from folk art, made with next to nothing, naïve as a homemade toy and precious as a Charles Matton box, is indispensable in an ailing art market overdosed on super productions.
Roland is a loner, at the polar opposite of the madness, situated amidst the calm of his meridional landscape developing a work that juggles his world, inventing non-codes, cutting, forming, amplifying his dreams in a multitude of second hand tinplate, made fresh daily! Forty years of work, of experimentation virtually "hands off".
Roland Roure has created his own universe juxtaposed to ours, a benevolent alphabet open to the infinite, no limit, no "Z", no full stop. This singular work rolls out its imaginary personal path and will touch visitors by its sincerity and the inspired ingenuity of creatures born from "nearly nothing".
Cyrille Putman
Translation by Ilsa Carter and Pierre Guglielmina